Polly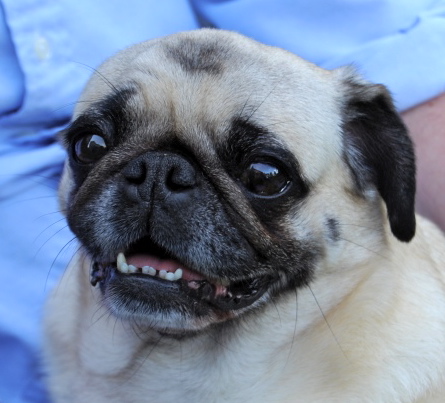 Polly
(Adopted from Seattle Pug Rescue)
Polly was rescued from an Amish puppy mill (warning: disturbing footage of mistreated dogs, including pugs) in Pennsylvania, where she was kept in a small cage and used to produce litter after litter of puppies. A Pennsylvania pug-rescue organization obtained Polly from the Amish.
The news video at the link above describes how dogs who have spent their lives in small cages often have trouble walking when they are rescued, and that was the case with Polly. She required surgery on her hind legs. Unfortunately, the Pennsylvania organization couldn't afford the surgery, so Polly was flown to Seattle, where Dr. Keith Norton and Dr. Melissa Norton performed the necessary operation.
Polly recovered under the care of Seattle Pug Rescue, through whom we adopted her. Today, Polly gets around just fine, and can run in the back yard or go on long walks with her adoptive sisters Gretel and CeeCee. It's been fun watching her have new experiences and discover new things like snow, sunny back yards, or how to burrow under blankets to sleep in the cozy darkness. While she can still be a little skittish at times and isn't as outgoing as Gretel, she has bonded tightly with my wife, whom she clearly loves very much. I think she likes me, too.
---
To help pugs who have been victims of abuse or neglect, or who just need loving new homes, please contact Seattle Pug Rescue or a pug-rescue group in your area. Please, never buy puppies from a pet store.